We've compiled our top 5 caliper tools of 2020 based on sales, customer reviews and our tech team's testing and input. From outstanding high precision accuracy, to innovative cutting edge features, to offering unparalleled value, these five calipers land at the top of our list with good reason.
top 5 caliper measuring tools
This caliper provides inch/metric conversion, has the ability to measure inside and outside dimensions, plus includes a depth gage for depth measurements. These capabilities are paired with a large, easy-to-read viewing screen, making this tool a best-selling customer favorite for over a decade. This caliper provides maximum value and versatility at a fraction of comparable name brand calipers. Ideal for students, journeymen and hobbyists!
Travers Tool Order #57-016-060
IP54 water, oil and coolant protection? This has it. Easy-to-read high contrast display? Check. This caliper also has built-in Smart data for Bluetooth connectivity, all complete with ISO Certification at a price that can't be beat. Ideal for machinists and shops utilizing wireless, smart technology to increase efficiency.
Travers Tool Order #57-017-658

Ease-of-use and competitive pricing make this caliper a must-have for any shop. Complete with satin chrome finish on a durable stainless steel body with crisp, engraved graduations for years of use. Adjusting slide for fine adjustment, and thumb roll provide smooth movement and allow single-handed usage. Ideal for students and as a back-up caliper for shops.
Travers Tool Order #57-015-006

IP40 protection in a caliper that offers TWIN & LINK, a dual connectivity concept that allows you to go wireless or connect via cable. Offering instant inch/metric conversion within an absolute and differential measuring system and bearing a durable stainless steel frame and with a large 7/16" LCD display, this caliper is ideal for professional machinists, engineers and quality control departments.
Travers Tool Order #57-016-176
This best-selling electronic caliper is an industry favorite! Complete with absolute measuring, this caliper remembers its measuring position even after the gage has been switched off. Zero/ABS allows the display to be zero set at any point on the slider for easy incremental measurements, and with inch/metric conversion, this caliper provides maximum versatility and durability. Ideal for professional machinists, engineers and quality control departments.
Travers Tool Order #57-016-342
---
Want To Learn More about caliper measuring tools?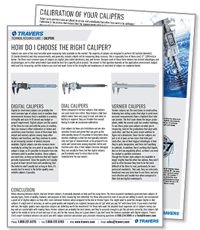 Download our valuable guide on the proper selection and usage of digital, dial, and Vernier calipers. Learn the advantages and disadvantages of each, and which caliper best meets your needs and suits your application. Find information on:
The fundamentals of calipers
The features and appropriate use of digital, dial and Vernier calipers
The benefits of calibrated calipers
Ingress Protection (IP) Ratings explained