A variety of factors to help maximize productivity when machining aluminum. Choosing the right insert is essential to machining the metal efficiently and profitably. Use the information below or contact one of Travers Tool's experienced technical advisors for indexable insert selection assistance at tech@travers.com or via phone at 800.234.9985
INSERT GEOMETRIES
Indexable cutting tools are normally recommended when larger diameters, larger feed rates, and larger depth of cuts are implemented or simply when you want the convenience of changing inserts vs. regrinding a high speed steel or brazed carbide tool for various reasons. Tungsten carbide is the standard insert substrate and is more brittle vs. high-speed steel. Many inserts have multiple cutting edges (for indexing), have post-processing treatment (such as grinding, polishing or a coating) and may be offered in different radii if the application calls for it. For lathes, indexable tool holder shanks as small as 1/4" can be found and for milling machines, indexable milling diameters as small as 3/8" can be found.

There are several major geometries that have a large effect on an insert's performance: insert shape, rake angles, and the relief angle. Aluminum is a gummy and free-machining material, so sharper angles are normally recommended to help shear through the material versus pushing the material with a honed or dull cutting edge.
---
INSERT SHAPE
When producing smaller batches or prototypes, the major determining factor of an insert may simply be what tool holder the shop has available for that application and normally many holders will have specific geometries for machining aluminum. Common shapes such as round, triangle, squares, parallelograms and diamond-shaped inserts can all be used effectively. Though when choosing an insert shape, it is normally recommended that the most acute angle be selected after considering the given application, clearance, depth of cut, feed rate and level of interruption that the application will allow. The insert's shape can improve the productivity, effectiveness, and tool life for application. For example, a high-speed finishing application in the single-point turning of aluminum would benefit from using a sharp 35° diamond but inversely you may want to avoid a sharp 35° diamond shape on sand-casted aluminum with a rough surface and use a round-shaped insert.

---
RELIEF ANGLES
The relief angle is the angle between the workpiece and cutting tool, typically on the side of the insert. There are two types of relief angles: positive and negative. Any angle greater than zero is considered a positive relief angle while an angle that equals zero is a negative relief angle. The placement of an insert can alter the overall relief on the holder, for example, an insert with a 20° relief can be tilted to increase its overall relief to 25°. The relief angle works in conjunction with the rake angle to affect the cutting action and its consequence. A positive relief angle is recommended for aluminum machining.

---
RAKE ANGLES
The rake angle is an angle from the cutting tool tip relative to the workpiece.
There are three types of rake angles: negative, neutral, & positive. A positive rake angle is ideal and most manufactures will use some of their most positive angles for their cutting geometry. A positive rake angle helps with chip disposal, reduce the insert's cutting resistance, reduce the cutting temperature, decrease built-up edge (BUE), positively affects machinability, and decrease the cutting power required. Caution is advised, as a positive rake angle may be prone to fracturing and is not recommended on ferrous materials or difficult to cut materials.
---
CHIPBREAKERs
Aluminum chips are gummy and can quickly become unmanageable. A high positive and sharp chipbreaker is recommended for. Typically, the rake angles and sharp cutting edges are accentuated with aluminum / non-ferrous specific chipbreakers and too sharp for many other materials.
AK SPECIAL CHIPBREAKER FOR ALUMINUM machining:
High rake angle & tabby pattern chip pocket: low cutting load
Unique rake angle design: effective chip breaking and good chip flow
Unique and 3-dimensional top face: longer tool life & excellent


surface roughness

Tabby pattern & sharp cutting edge: distributed cutting load, longer tool life
Buffed on top face: excellent machining & chip flow, reduced built-up edge
---
WAnt to learn more about aluminum machining?
By downloading the Aluminum Machining Guide you'll also find information on: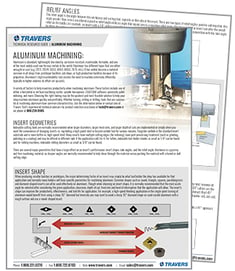 Milling approach angles

Insert substrates, coatings & post treatment

Troubleshooting insert failure

Pros & cons of solid carbide vs. indexable tooling

How to choose the right tool for your aluminum milling application