Watch this video as we unbox the Kalamazoo 1" x 42" Belt Sander & show you how it works! See the belt sander's key features and just how quickly it goes from the box to full operation. Subscribe to our YouTube Channel to see more awesome unboxing, product feature and application videos like this one!
What's in the box?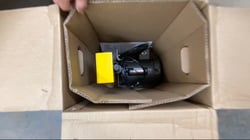 The popular Kalamazoo Belt Sander is manufactured in Kalamazoo, Michigan and the machine and all its parts are proudly made in the USA! The machine is packed completely assembled and in one piece (making it that much easier to unbox and get right to work!), and is wrapped in multiple layers of thick corrugated cardboard to ensure its safe delivery. The belt sander is packaged with a wooden base for support and additional protection during shipping. Remove the two support screws to detach the machine from the wooden base, and use those same screw holes (and screws if applicable) to bolt the belt sander down to your workbench if so desired.
Versatile & easy to use
The Kalamazoo Belt Sander can be used for sanding, deburring, sharpening, shaping and finishing operations on metal, wood, and plastic. It comes equipped with a tilting table, allowing you to add angles to your workpiece. The 1 x 42" belt tracks true and can be easily changed, providing that much more versatility. Being that you can change the belt quickly, you can easily ensure the belt you are using is the optimal grit for your material and that you are working as efficiently as possible. The 1/3 HP, 110V 1 PH motor runs at 1,725 RPM, giving this belt sander plenty of power for industrial applications.
Making A Change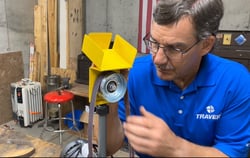 The belt on the Kalamazoo 1" x 42" Belt Sander can be changed with ease.
Simply perform the following steps:
Unplug the machine to remove risk of shock or an accident.
Next, open the OSHA approved belt guard and loosen the knob on the back.
Press down on the spring loaded pulley to remove the belt. The system is so easy to use, it makes it possible to quickly change from a course belt to a fine belt in less than a minute!
Once the belt is centered, tighten the knob on the back. Plug the machine back in and you are ready to go!