What is a collet and what is a collet used for? Our tech expert Kurt Repsher introduces you to the most popular collet types in this video, and explains the differences between R8 Collets, ER Collets, 5C Collets, and more. Subscribe to our YouTube Channel and be the first to see more awesome videos like this one!
What Is A Collet & what Are Collets Used for?
A collet is a form of chuck that forms a collar around a tool, like an end mill or drill for example, and exerts a strong clamping force on the object when it is tightened. It may also be used to hold a workpiece. Collets reliably allow fast chucking (tool changes), strong and steady clamping, and precise self-centering that makes them critical for repetitive work. Collets provide accurate alignment and static friction, making their use essential for a variety of machining applications.
Common metalworking industry-standard designs are R8 (internally threaded for mills) and 5C (usually externally threaded for lathes). The most common type of collet grips a round bar or tool, but there are collets for square, hexagonal, and other shapes. Customizable, easily machined collets include emergency collets (e-collets) or soft collets (available in an unhardened state allowing them to readily be machined as needed). Step collets are also available, and those 'step up' to a larger diameter from the spindle, allowing larger workpieces to be held.
R8 collets are designed for use in milling machines. Unusually, R8 collets fit into the machine taper itself (there is no separate chuck), and tools with integral R8 taper can also be directly fitted. The R8 was developed to allow rapid tool changes and requires an exact match between the collet and tool shank diameter. R8 collets have a keyway to prevent rotation when fitting or removing, but it is the compressed taper and not the keyway that provides the driving force. Collets are compressed by a drawbar from above, they are self releasing and tool changes can be automated.
ER collets are the most widely used clamping system. The standard series are: ER-8, ER-11, ER-16, ER-20, ER-25, ER-32, ER-40, and ER-50. ER collets collapse to hold parts up to 1mm smaller than the nominal collet internal size in most of the series (up to 2mm smaller in ER-50, and 0.5mm in smaller sizes) and are available in 1mm or 0.5mm steps. Thus, a given collet holds any diameter ranging from its nominal size to its 1mm-smaller collapsed size, and an ER collet set provides a wide range of versatility. With an ER fixture chuck, ER collets may also serve as workholding fixtures for small parts, in addition to their usual application as toolholders with spindle chucks.

5C collets are designed for work holding. 5C collets have an external thread at the rear for drawing the collet closed, allowing workpieces to pass right through the center of the collet and chuck (5C collets often also have an internal thread for locating a workpiece against the inserted work stop). Variations of these collets are also available to hold square and hex stock. 5C collets have a limited closing range, requiring shank and collet diameters be a close match. 5C collet sets offer a variety of sizes, allowing you to have the 5C collet you need readily available.
Emergency collets have a machinable face that allows you to bore an opening to exactly the size and shape you need. All have external and internal threads, and allow you to readily machine and customize as needed.
A step collet features a wide head that can be machined to hold large workpieces that wouldn't otherwise fit in a standard collet. Step collets have external threads.
The Do's & Don'ts Of Collets
DO:
DON'T:
Do Always Use The Right Size Collet For The Tool Or Workpiece Being Held: collet should be held securely, with no 'give'.
Don't T

ry To Tighten A Tool Or Workpiece Into A Collet That Is Not Intended For That Size:

doing so can damage the tool or workpiece and increases the risk of an accident or downtime.
Do Ensure Most Of The Tool Shank Is Securely Held In The Collet:

doing this increases the collet's ability to securely hold your tool, reduces the risk of failure and injury, and stabilizes the tool, resulting in a better cut and finish on your workpiece.

Don't Overextend A Tool Held By A Collet To Allow It To Reach Further: doing this decreases the collet's ability to securely hold your tool, increases the risk of failure and injury, and creates chatter that can impact workpiece finish.
Do Regularly Clean Your Collets Between Usage:

simply blowing off chips and debris from the collet's surface extends the collet's life, ensuring its ability to properly secure tools.

Don't Leave Chips & Debris on The Surface Of Your Collet:

without regular cleaning, the outside of the collet and inside of the toolholder will become worn and less effective.
Travers Tool offers a wide range of metalworking collets with expanding, flex and quick-change designs. Choose individual collets or collet sets, and accessories from quality brands including Lyndex-Nikken, Parlec, ETM, Shark Tools, and more. Shop our website for our complete line of machine collets. Request technical support should you require additional assistance selecting the right collet for your machine or application.
---
Quickly & easily Identify the right collet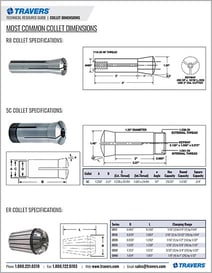 Download our free collet dimension & specification chart! Find comprehensive reference tables that list the dimensions and specifications of the most popular collet styles including:
R8 Collets
5C Collets
ER Collets
DA (Double Angle) Collets
SA75, PG75, or TG75 Collets