Maintenance of indexable tools is something that is often overlooked until a problem occurs. Our resident tech expert Kurt Repsher walks you through how to torque a clamp screw on indexable tooling and how it impacts tool life and performance. Subscribe to our YouTube Channel to check out more awesome videos like this one!
The talk on torque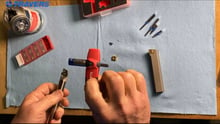 Torquing the insert clamp screw is a step that a lot of machinists skip when performing applications with indexable tooling. Torque that is too high can negatively affect the performance of the indexable tool, potentially leading to insert and screw breakage. Meanwhile, torque that is too low can potentially cause insert vibration or movement, and negatively impact the cutting result. For specific use on indexable tools, we recommend Sloky Torque Screwdrivers that go exactly to the torque you need for use with your indexable tooling!
How to torque the insert clamp screw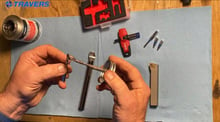 Each insert clamp screw has a predetermined or recommended torque that should be used. Over tightening the clamp screw can compromise its strength, which ultimately negatively impacts both accuracy and rigidity. So in order to accomplish that, the best thing to use is a torque wrench. Before tightening the screw, put a little dab of Anti-Seize on it to help prevent galling and corrosion. When using a torque wrench or screwdriver, once you reach the proper tightness, you normally get an audible click. This sound indicates that the screw is at the proper tension, and therefore, the tool is at its optimum accuracy.

---
WAnt to learn more about aluminum machining?
By downloading the Aluminum Machining Guide you'll also find information on: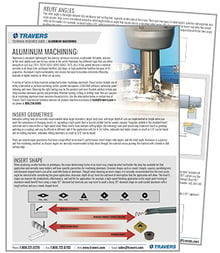 Milling approach angles

Insert substrates, coatings & post treatment

Troubleshooting insert failure

Pros & cons of solid carbide vs. indexable tooling

How to choose the right tool for your aluminum milling application