Watch this video as Kurt Repsher from Travers Tool's Tech Team 'unboxes' Elite Precision's 0~6" Bluetooth Digital Caliper and completes a demo of the measuring tool's Bluetooth and 'smart' features. Bluetooth calipers and other 'smart' measuring tools permit the wireless integration of precision measuring equipment in your machine shop. Making use of 'smart' wireless precision measuring and inspection tools, like the Bluetooth digital calipers, can result in a number of benefits and efficiencies.
While you're at it, don't forget to subscribe to our YouTube Channel by clicking the button below!
Reduced Set-Up Time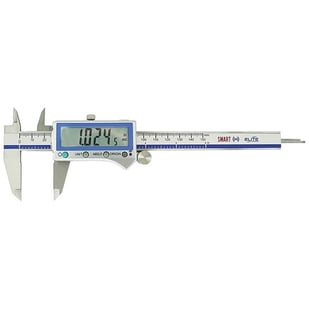 Getting rid of wired tools makes operational work easier and faster, with less set-up time required to begin a task. Without the physical restrictions data leads require, measurements can be transmitted with immediacy, directly from your workstation.
Increased Accuracy
The Bluetooth capability allows direct reading to your computer, phone or tablet, and removes the possibility of human error and mis-keyed information occurring during manual entry.
Reduced Clutter
Using wireless measuring tools like Elite Precision's 0~6" Bluetooth Digital Caliper eliminates the need for yet another messy wire in your shop! You'll never have to search for a misplaced data lead again.
Elite Precision's 0~6" Bluetooth Digital Caliper offers all the aforementioned benefits, plus IP54 level protection against splash water, oil and dust. Certified by an ISO/IEC 17025:2005 laboratory and providing ±.001" accuracy, this high precision smart caliper is equipped with a direct connect Bluetooth device and built-in smart data absolute sensor system. Complete with push button inch/metric unit conversion, auto off to save battery life, a protective fitted case, and a large high contrast easy-to-read display, this Bluetooth digital caliper is a best-selling customer favorite.
---
Want To Learn More about caliper measuring tools?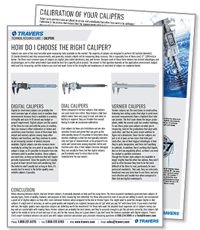 Download our valuable guide on the proper selection and usage of digital, dial, and Vernier calipers. Learn the advantages and disadvantages of each, and which caliper best meets your needs and suits your application. Find information on:
The fundamentals of calipers
The features and appropriate use of digital, dial and Vernier calipers
The benefits of calibrated calipers
Ingress Protection (IP) Ratings explained