Watch this video to learn how to use 1-2-3 blocks and utilize these versatile tools for a variety of set-up and measuring applications. To view more application and product videos, including hundreds of exclusive video demonstrations, subscribe to our channel!
What Are 1-2-3 Blocks?
1-2-3 blocks are a versatile tool most commonly used for set-up and inspection applications. 1-2-3 blocks measure 1" thick × 2" wide × 3" long and are usually made of durable, hardened and ground steel. 1-2-3 blocks are made to tight tolerances that allow them to be used as both a gage and a work support. 1-2-3 blocks often feature holes in each face, sometimes threaded, that allow machinists to use the blocks to form elaborate set-up configurations as needed.
What can you use 1-2-3 Blocks For?
Repeating Set-Up Applications: 1-2-3 blocks can be clamped to a machine table and used to create a repeating set-up for machining identical parts.
Use As Parallels: 1-2-3 blocks can be placed under a workpiece that is clamped down. A machinist can utilize the holes within each block to drill or tap into a workpiece without damaging the machine table.
Checking Your Measuring Tools: Since 1-2-3 blocks are made to tight tolerances, they can be used to verify the accuracy of your measuring tools
Measuring Applications: 1-2-3 blocks can be held against the workpiece you are measuring to create a protruding edge or face that allows you to more easily measure with a caliper.
Want to see more Set-Up Blocks? Click here!
---
How Do You Choose the right caliper?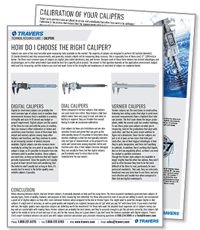 Like 1-2-3 blocks, calipers are a machine shop essential! Download our valuable guide on the proper selection and usage of digital, dial, and Vernier calipers. Learn the advantages and disadvantages of each, and which caliper best meets your needs and suits your application. Find information on:
The fundamentals of calipers
The features and appropriate use of digital, dial and Vernier calipers
The benefits of calibrated calipers
Ingress Protection (IP) Ratings explained