Check out this video and watch our resident Technical Support Expert Kurt Repsher demonstrate the features of Noga Indicator Holders and Magnetic Bases. Learn how to choose the right indicator holder for your application, and what holding power and fine adjustment is right for you. To see more application and 'How-To' videos, subscribe to our YouTube Channel by clicking the button below!
what are the benefits of using an Indicator Holder?
Time-consuming positioning of indicators increases setup times. Indicator holders equipped with magnetic bases are ideal machining companions for when you need versatility, accuracy, ease of use, and quick setup times the most. Indicator holders allow for easy positioning of gages and help you to avoid work stoppage and increase production, accuracy, and measuring efficiency. Their strong magnetic bases hold firmly and securely to any flat or curved ferrous metal component for more accurate measurements. Capable of 360° rotation for maximum versatility, their articulated arm reaches every conceivable position.
why choose a Noga Indicator Holder?
Noga's indicator holders offer fine adjustment functionality, either at the top, the bottom, or both, and they have zinc-cast indicator clamps. The holders also have an on/off switchable magnetic base that enables instant fixing of the holder to machines or other metallic worktables or surfaces. These powerful magnetic holders remain stable while you proceed with your readings, providing a secure hold and helping ensure precision. They have black-finished articulating arms, which make the holder more flexible and help you set up the indicators in all required positions instantly, with only one, centrally located locking system, which is backed by a spring-loaded bearing that was designed and produced by Noga. You can use different types of indicators in its universal swivel clamp, such as those with 3/8 inch, 6mm, and 8mm stems or dovetails. Due to the stability and ease of use, Noga articulated holders with fine adjustment have become the industry standard. The Noga magnetic indicator holders are primarily designed for mechanical applications, however, they are equally effective in applications such as holding and positioning medical instruments, photography equipment, scientific devices, and more. The Noga holders are extensively used in manufacturing, construction, medical, light and sound, photography, and other industries where a secure, precise hold is required. Noga magnetic bases and indicator holders are a necessity for any general measurement, comparison, or set-up operation, as they increase precision and working efficiency.
Noga Indicator Holder features include some, or all of:
On/off switchable magnetic base:

allows you to fix the indicator on any metallic surface instantly.

Articulated arms:

allow for more flexibility and help you place the indicators in any position quickly, and easily.

Unique central locking mechanism:

exclusive to Noga, this locking mechanism includes a spring loaded bearing for easy set-up.

Universal swivel clamp:

allows clamping of different types of indicators,

and features mounting holes for 3/8", 6mm, and 8mm indicator stems, as well as a dovetail slot, for unparalleled

versatility and compatibility with a wide range of indicators.
---
Top 5 Noga Indicator Holders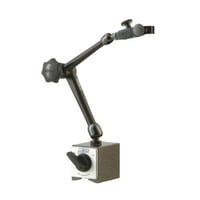 Noga's most popular indicator holder, the DG61003 is a regular duty holder that utilizes metal (top) fine adjustment, and a versatile clamp that holds a wide range of indicators.
Travers Order #: 99-001-130
Holding Power: 176 lbs.
Holds: 6mm, 8mm, 3/8" & dovetail
Top Arm Length: 3.98"
Bottom Arm Length: 4.33"
Fine Adjustment: Top
Noga's most powerful indicator holder, the MA61003 is a heavy duty holder that packs a whopping 292 lbs. of holding power!
Travers Order #: 99-001-154
Holding Power: 292 lbs.
Holds: 6mm, 8mm, 3/8" & dovetail
Top Arm Length: 9.52"
Bottom Arm Length: 12.83"
Fine Adjustment: Top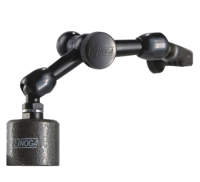 Noga's smallest indicator holder, the LC6200 is equipped with a small, round magnet, and a top and bottom arm that measure just 1.5" each, making this holder ideal for use in small, tight spaces. This allows you to utilize standard 8mm and dovetail stemmed indicators in spaces that other gage holders just can't access.
Travers Order #: 99-001-063
Holding Power: 44 lbs.
Holds: 8mm & dovetail
Top Arm Length: 1.5"
Bottom Arm Length: 1.5"
Fine Adjustment: none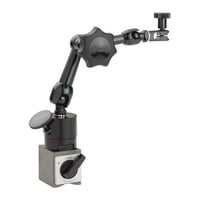 Noga's unique flex gage holder is equipped with a 5-axis three dimensional holder to allow for a wide range of flexibility and rage of motion.
Travers Order #: 99-001-035
Holding Power: 70 lbs.
Holds: 3/8" & dovetail
Top Arm Length: 2.01"
Bottom Arm Length: 2.2"
Fine Adjustment: Top, with rotating, 360° fine adjustment on the bottom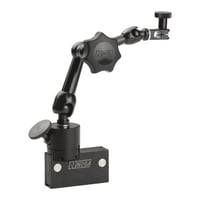 Noga's Nogaflex Magnetic Base is designed to provide maximum rigidity with a permanent magnet, five axis holder, and 360° fine adjustments at base.
Travers Order #: 99-001-131
Holding Power: 63 lbs.
Holds: 3/8" & dovetail
Top Arm Length: 2.01"
Bottom Arm Length: 2.2"
Fine Adjustment: Top, with rotating, 360° fine adjustment on the bottom
---
Want To Learn More how To Choose The Right Caliper?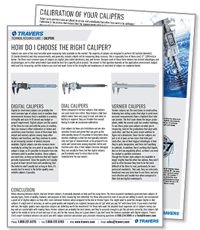 Download our valuable guide on the proper selection and usage of digital, dial, and Vernier calipers. Learn the advantages and disadvantages of each, and which caliper best meets your needs and suits your application. Find information on:
The fundamentals of calipers
The features and appropriate use of digital, dial and Vernier calipers
The benefits of calibrated calipers
Ingress Protection (IP) Ratings explained