Watch as we unbox the Travers Tool/Mitutoyo Exclusive Set, complete with 0~6" Mitutoyo Electronic Caliper and popular must-have measuring accessories, all in a durable shop hardened carrying case with thick inner foam lining to provide the ultimate in protection, mobility and organization for your measuring instruments! Subscribe to our channel and see more unboxings, application videos, and tips & tricks!
A comprehensive, lean measuring set
Ideal for professional machinists, journeymen, students or home machinists, this exclusive set includes the measuring tools you rely on most. Protective case houses tools in laser-cut foam, securing each instrument and allowing you to transport the tools without worry, store securely, and keep neatly organized.
Includes:
(1) Mitutoyo 0-6" MyCal Absolute Digimatic Caliper
Large LCD display has resolution of .0005" (.01mm).

Inch/metric conversion for maximum versatility.

Zero/ABS allows the display to be zero-set at any point along the slider for incremental comparison measurements. This switch will also allow return to absolute.

Made In Japan
(1) TTC 6" Rigid Ruler
Made of the finest quality steel, hardened and tempered.

4R Graduation: 8ths, 16ths, 32nds and 64ths
(1) TTC Carbide Scriber
Can be used on hard surfaces.

Complete with pocket clip.
(1) TTC Grade Block
Size: 1/2" (.500")

Grade: "B".
(1) Super Shop Hardened Carrying Case
Durable with inner lined thick foam.

Ergonomic carrying handle.
Available As Travers Tool Order #57-017-450
Only $144.99 USD thru 5/16/21 with promo code A
---
Want to Shop more exclusive lean kits
?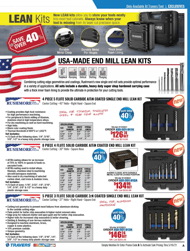 Travers Tool is a proud to bring you a full line of exclusive lean kits featuring solutions from the brands you rely on most, including Bondhus, Channellock, Irwin, Knipex, Mitutoyo, Pica, Proto, Rushmore, Wera and more. Through 5/16/21, shop featured Lean Kits at limited time only pricing.
View our Travers Exclusives & Lean Kits Flyer:
8 Pages of Exclusive Lean Kits
New Rushmore End Mill Lean Kits over 40% off
New Measuring Tool Lean Kits at up to 40% off