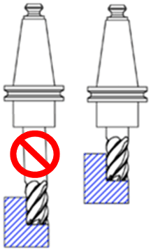 End mills are available in numerous flute lengths and overall lengths, as well as reduced neck versions that allow for deeper milling, while reducing tool deflection. It is wiser to choose an end mill with the shortest overhang necessary to reach the workpiece. Overhang references the distance that an end mill is sticking out of its toolholder. As the overhang increases, the tool's likelihood of deflection also increases. It is preferred to insert the end mill as far as possible into the holder or collet to minimize chatter and tool chipping, or even breakage. The shortest possible end mill will yield the greatest rigidity, and thus avoid deflection and chatter. Choose a tool's flute length only as long as needed, or just slightly longer. Deflection and chatter can shorten tool life and increase the likelihood of tool breakage, produce poor workpiece surface finishes, and inaccurate part dimensions.


Long length vs. Long Reach End mills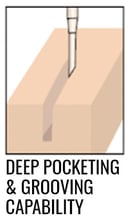 Long length end mills (aka long flute end mills) have a reduced core diameter from the end of the flutes, all the way up to where the flutes end, and the shank begins. Long reach end mills offer increased rigidity, but because of its reduced neck, it still allows the end mill to reach the depths that a similar size long length end mill is capable of.

Long length end mills are used for maintaining a seamless wall on the side of a workpiece or within a pocket or slot for finishing applications. Long length (or long flute) end mills in deep slots are very effective, but an additional finishing pass or two might be required, do to more potential of tool deflection.

Long reach end mills are great to use when a deep slot or pocket is needed. The reduced neck diameter between the flutes and the shank allows for deeper access, without rubbing against the workpiece. Since the flutes don't go up to the shank, they have a larger core diameter, which makes them a more rigid tool, reducing tool deflection.
Summary
Avoid damage to your cutting tool by minimizing the distance from the end mill tip to the toolholder. Choose an end mill length while keeping in mind that the shortest lengths will provide the most rigidity. Select a long length end mill when machining a seamless wall on the side of a workpiece or when completing finishing applications within a slot or a pocket, and choose a long reach end mill when a continuous, full-depth cut isn't required, and increased rigidity is needed.
---
WAnt to learn more?
We believe the Right Tool Is Everything™, and we strive to share our experience and expertise in an effort to ensure you select the right tool for your application, every time. Download our Fundamentals Of End Mills Guide and learn the pros and cons of varying helix angles, coatings, tool materials and more, so you can confidently select the end mill that best meets your needs and suits your application.
You'll find information on: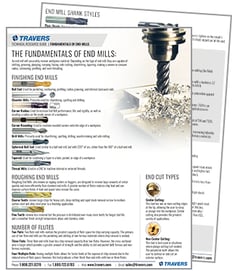 Differentiating end mill types
Selecting the right tool material and coating for your milling application
Choosing the right number of flutes for your needs
When to select a high, low, or variable helix angle
Selection tips from our expert technical support team