Watch this video introduction to milling work stops and how to choose the right work stop for your mill. Tech expert Kurt Repsher walks you through the pros and cons of various mill work stops, and much more! Subscribe to our YouTube Channel and be the first to see more how-to videos like this one!
Why Use a Work Stop?
A work stop allows you to increase productivity in a few different ways. Most notably, a work stop allows for fast, exact positioning, which saves time when you are removing a workpiece and repeating the same application after another. This easy repeatability allows for faster set-up and consistency between each part. This quick, exact positioning also benefits you if you are working on a single workpiece that requires you to remove it on occasion to take measurements or machine the workpiece elsewhere. A work stop ensures the workpiece will be returned to the same exact position regardless of how many times you may remove it from your mill to make adjustments.
Which work stop, when?
A variety of work stops exist, each for a specific purpose, designed for use with specific components of your mill.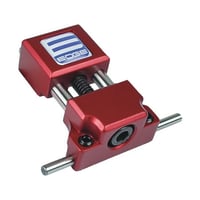 Edge Technology's Pro Vise Jaw Stop improves your accuracy and enhances your productivity in milling applications. This patented jaw stop comes with a high-end micro stop rod, and the rod is uniquely placed below the top surface of the vise jaws to provide you with maximum clearance during the cutting action. Therefore, the stop does not interfere with the cutting path, allowing you to cut the stock and not the stop. The 1/8" x 2" stop rod is adjustable side-to-side, generously allowing space between the unit and the stock, and offering even more clearance during the jobs. The design helps you have a profile or facing cut without damaging the stop. Also, this hardened steel-made stop pin helps locate your workpieces accurately. The anodized aluminum 1-1/8" body with two guide pins and a large (#10) clamp screw are used to secure the jaw stop to the jaws of the vise. Moreover, to support the stop rod, 8-32 non-marring flat-point set screws are provided. The jaw stop can be fixed on milling machines with jaw thicknesses of 1/2" to 7/8" and a 1/8" minimum protrusion above the vise body. The Edge Technology Pro Vise Jaw Stop helps you finish your milling jobs faster and easier, on both manual and CNC machines.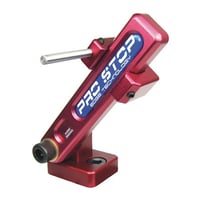 The patented Pro Mill Stop by Edge Technology can be mounted on any available 5/8" T-slot anywhere along the milling machine table allowing it to accurately locate a workpiece for any type of setup. It is designed to keep the stop rod square to the work piece throughout the entire range of motion. This configuration provides a more consistent locating surface for increased part accuracy. The base of the unit is also eyed to the 5/8" T-slot of table for increased consistency. After locating the workpiece the arm of the Pro Mill Stop can be rotated out of the way for total cutter clearance. The arm can then be accurately repositioned for repeat setup.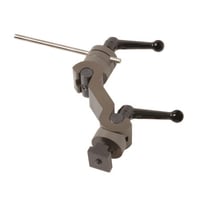 The American-Made TTC Production Five Axis Single Milling Stop is your all-access pass to uninterrupted multi-angle machining. Awkward angles and difficult shapes can't slow you down with this milling stop's complete 360° locking lever positioning and five axes of adjustability. Replace all your other special milling stops with the universal stop that puts an end to time-consuming realignments and limiting up-and-down adjustments.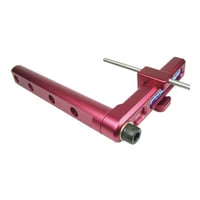 The low-profile design of Edge Technology's Single Side Milling Machine Work Stop makes it easily stay below the cutting surface, and thus, never interfere with the cutting path. Therefore, you cut your workpieces and not the stops. After locating a workpiece, you can rotate the arm of these stops out of the cutter's way to achieve complete clearance during your machining jobs. Once done, you can reposition the arm for working with the next workpiece. The work stops help you position the 1/4" hardened-steel stop rod at any desired location, and the stop rod collar is designed to locate long stock without any hassle. Also, the stop rod always stays parallel to the milling machine table so that the workpiece gets in touch with the rod face squarely, and this arrangement increases positioning accuracy immensely. CNC machined from billet aluminum (red anodized 6061-T6), they offer you error-free positioning of your stock on both manual and CNC milling machines with 6" milling machine vises.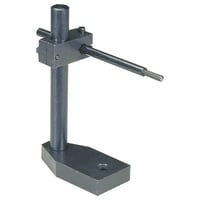 Designed for milling machines and jig bores, the TTC Adjustable Mill Stop can be used with horizontal & vertical milling set-ups. It can also be used with angle plates, vises, jigs, and more, to serve as a rigid stop. This versatile, economical work stop is simple to use and a must for any shop.
---
WAnt to learn more about aluminum machining?
We believe the right tool is everything! Download our Aluminum Machining Guide and ensure you have the information you need to select the right tool for your aluminum machining applications, every time!
By downloading the Aluminum Machining Guide you'll also find information on: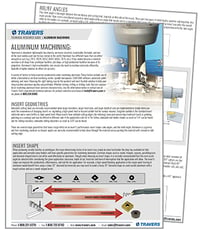 Insert substrates, coatings & post treatment


Insert shape and geometries

Troubleshooting insert failure

Pros & cons of solid carbide vs. indexable tooling

Milling approach angles