We've compiled our top 5 end mills for aluminum milling based on sales, customer reviews and our tech team's testing and input. From reliable performance and repeatability, to innovative cutting edge features, to offering unparalleled value, these five end mills land at the top of our list with good reason.
top 5 end mills for aluminum

German-engineered and American-made, the Promax Series 119 ZrN (zirconium nitride) coated roughing-finishing end mills are specially designed to improve performance in profiling and pocketing roughing-finishing applications in aluminum and light alloys. Eccentric relieved for a 25% stronger cutting edge, these end mills come complete with a corner radius, allowing exceptionally smooth machining, even at maximum speeds. Plus, common diameters are available with reduced necks for deeper access.


Our most popular end mill set! Complete with five Rushmore USA American-made 3 flute ZrN (zirconium nitride) coated single end mills in popular sizes - one each of diameters 1/8", 3/16", 1/4", 3/8" and 1/2", all in a durable heavy duty case with fitted laser-cut foam to allow easy portability and protected storage. Plus, this set lends itself to lean manufacturing efforts, as every end mill has a specific space and makes inventory control a breeze! This set provides unparalleled performance, portability and value! Each solid carbide end mill features a versatile 37° helix and a ZrN coating for the increased lubricity aluminum milling demands.
Travers Tool Order #20-501-913



Designed for milling radius bottoms, slots, fillets & special contours on aluminum, brass, copper and some plastics, these solid carbide end mills are equipped with a ZrN coating for increased tool life and lubricity, and polished flutes for better chip evacuation and higher metal removal rates. Also featuring a unique cutting tool geometry to prevent the aluminum from sticking to the carbide cutting edge, these end mills provide reduced cutting forces & superior finishes. With edge prep for reduced chatter and an open gash end for better chip evacuation, these end mills are a must-have for any machine shop.



These USA-made single end mills are complete with a 45° helix to minimize chatter, offer superior chip evacuation, and leave a professional grade fine finish! Ideal for medium roughing to fine finishing applications, these end mills thrive under extremely high feed rates and are designed to provide maximum productivity on aluminum and non-ferrous materials. With a C2 grade premium sub-micron carbide with 10% cobalt and a ZrN coating for excellent wear resistance and increased lubricity, this customer and tech team favorite provides both power and performance.



A best-selling customer and tech team favorite, these American-made end mills deliver high performance paired with the quality and durability the words 'Made In The USA' are synonymous with. Featuring a 10% premium micrograin carbide, a versatile 37° helix and a ZrN coating for increased lubricity, these end mills are ideal for machining aluminum and other non-ferrous materials. Available in a wide range of sizes and equipped with a unique geometry designed to prevent 'gumming' of the aluminum to the carbide (reducing chatter and preventing most failures), these end mills provide the power and versatility your aluminum milling applications demand.
Metric sizes also available, here.


---
WAnt to learn more about aluminum machining?
By downloading the Aluminum Machining Guide you'll also find information on: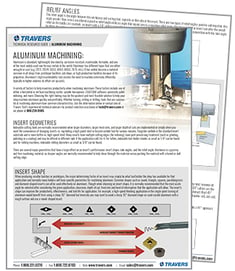 Milling approach angles

Insert substrates, coatings & post treatment

Troubleshooting insert failure

Pros & cons of solid carbide vs. indexable tooling

How to choose the right tool for your aluminum milling application