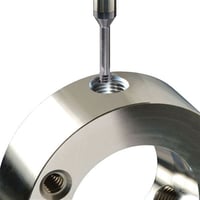 Primarily used within and developed for the aerospace industry, thread milling is an alternative method to traditional thread making that provides a better quality thread because the milling process allows the necessary clearance to evacuate chips that would otherwise be forced to evacuate via the thread form. Thread turning offers a simpler, and more economical means to creating threads.
Thread Milling
When utilizing a CNC machine tool, thread milling is another excellent method to produce threaded holes in aluminum. Thread milling is used when producing external threads on a milling center or mill turn center. Thread milling produces arguably the best quality thread on aluminum and has other advantages. Thread mills are typically made of carbide, and carbide thread mills offer longer tool life, often within similar cycle times as tapped holes. Thread mills can be offset or "comped" out to continue cutting to size. When taps wear, the tap will generally produce a smaller threaded hole. Taps are 90%+ engaged when machining, and require a good amount of machine torque while thread mills are at 5% or less engaged and barely register on the torque meter. If dealing with medical or defense parts, breaking a tap often requires the part to be scrapped, which is rare with carbide thread mills. More taps are broken in the 1/4" and smaller sizes due to small shanks and high torques. As the tap wears, there is more chance to break. Thread mills cut within 3/4 of a thread or closer to the bottom of a blind hole, while taps can only get with 5 full threads due to taper. Plus, some thread milling tools can even drill, thread, and chamfer a hole all with a single tool! Thread milling does require some programming, but most manufacturers will provide thread milling G-code assistance. Thread milling provides the most consistent and best process reliability when machining aluminum.
Thread Turning Tools – Thread Turning on a Lathe
When producing larger threads, turning threads on a lathe is one of the oldest and most productive methods to produce threaded parts. While high speed steel tool blanks may still be ground by some traditionalists, indexable thread turning tools play a prominent part in today's manufacturing because of their cost-effectiveness and simple method to turn threads. One of the major benefits of indexable threading tools is the wide variety of threading insert styles. There are as many indexable insert styles as there are thread styles. This allows to simply change your insert to your desired thread.
Thread Turning Tools – Full vs. Partial Profile
When producing threads, a print can designate for the crest (peak of the major diameter) to be finished at times. Often called "topping" the thread, certain inserts can finish both crests and root (valley of the minor diameter) in a cycle. These inserts are referred to as 'full profile' threading inserts and come in specific pitches, 12UN, 18UN, etc., meaning that insert should only be used for that pitch only. When an application does not require a full pitch, a 'partial profile' maybe available. Partial profile inserts machine only the root, and leave the crest. For 60° v-thread inserts (the same thread type as a "UN" thread used in the example above), the insert can produce a range of thread pitches. This makes partial profile inserts ideal for job shops or when a 'loose fit' is acceptable. After creating threads from a partial profile tool, many times the part will develop burrs, these burrs can be removed with a 'spring pass' or in some 'loose fit' cases by hand i.e. files or deburring tool.
---
WAnt to learn more?
We believe the Right Tool Is Everything™, and we strive to share our experience and expertise in an effort to ensure you select the right tool for your application and follow best practices. Download our comprehensive Tapping Right Guide on different tap styles and learn how to best apply them, allowing you to approach your tapping applications more efficiently than ever!
You'll find information on: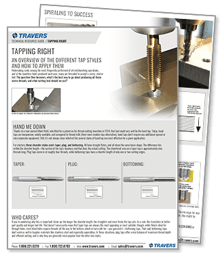 The right tap for your application
The differences & benefits of each tap style
Chip control
And more!