There are many different styles of indexable thread turning tools, but a simple way to classify these tools are: laydown style, 'on-edge' tangentially mounted, and top clamped. Each style has its own benefits. Choosing the right tool requires a look at the benefits each style produces.
Lay down Style
Lay down style threading inserts are the most common threading system in the world today. The name comes from the insert 'laying' down on the holder. These are mostly interchangeable between different companies and have the advantage of selection and abundance in the market. The ability to utilize one holder on multiple style of threads is convenient and economical. The lay down style insert normally comes with 3 cutting edges to index, multiple inserts sizes for different pitches (larger inserts normally produce less TPI, threads per inch) and the inserts use a shim to protect your tool holder, extending not only tool life but also the holder life.
'on-edge' tangentially mounted style
On-edge threading inserts are tangentially mounted on a holder. Normally held by a screw, these provide a smaller footprint for smaller set-ups and additional strength. Many on-edge tooling systems also have a grooving counterpart, so a single holder may be able to handle multiple applications with a single holder. An on-edge style insert can hold a larger thread form that would not fit on a smaller lay down. With the advancement of technology, some of these on-edge inserts also produce more cutting edges than the typical three found on a lay down style. It's not uncommon to see four or five cutting edges per insert with newer tooling. In certain situations, ergonomics drives the decision of a tool – in some slant bed lathes where the tool is upside down or the tool is at the back of the machine, on-edge style threading tools are used for the ease changing the inserts for the operator. Often, on-edge insert systems are proprietary and more expensive, and many times manufactures will not shim an on-edge insert holder.
Top Clamp Style
Top clamp style holders utilize a clamp to securely hold top clamp inserts via a groove on top of the insert. Top clamp inserts use a good amount of carbide and carbide shims, and can sometimes be provided on the insert holder, offering a strong and stable system for threading. One of the main benefits of top clamp style insert is the ability to switch from a grooving insert to a threading insert in the same holder, which can save on tool cost and set-up time. Many of these inserts are double sided, but because of the amount of carbide and grinding involved, these inserts can be costly.
SUMMARY
Many companies offer chip breakers on their inserts and these are useful when cutting long stringy materials like stainless steels, non-ferrous aluminum and certain heat-resistant alloys like titanium. Chip breaker styles also relieve tooling pressure at the tip of the insert. However, most chip breaker style inserts come in coated grades and not the ground and polished styles that are utilized in most aluminum applications. So, while they can be manufactured, you may have a hard time finding inventory.
If a dedicated threading tool is needed for aluminum, the lay down style threading tool is a cost-effective method to producing threads on aluminum. If applied with a partial profile insert, additional savings can be realized. Other factors such as the thread form, an existing tool holder, or ergonomics may lead you to an on-edge or top clamp style system. Regardless of the system, choose an insert that is uncoated, polished, and hard (wear resistant) to produce the best results in aluminum. Uncoated and polished inserts provide good resistance to BUE (built up edge). Utilize holders with coolant thru capabilities for additional benefits. Producing threads in a machine shop is almost inevitable, but with the right tools and approach, manufacturing threads can be quick and productive. Analyzing your application and available resources can help you quickly choose the best threading tool for the job!
---
WAnt to learn more?
We believe the Right Tool Is Everything™, and we strive to share our experience and expertise in an effort to ensure you select the right tool for your application and follow best practices. Download our comprehensive Tapping Right Guide on different tap styles and learn how to best apply them, allowing you to approach your threading applications more efficiently than ever!
You'll find information on: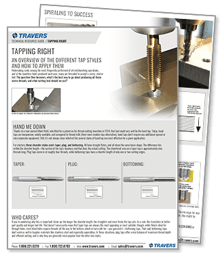 The right tap for your application
The differences & benefits of each tap style
Chip control
And more!