Watch this video introduction to lathe work stops. Tech expert Kurt Repsher walks you through how to choose the right work stop for your application, the pros and cons of various lathe work stops, and much more! Subscribe to our YouTube Channel and be the first to see more awesome how-to videos like this one!
Why Use a Work Stop?
A work stop allows you to increase productivity in a few different ways. Most notably, a work stop allows for fast, exact positioning, which saves time when you are removing a workpiece and repeating the same application on another. This repeatability allows for quick set-up and consistency between each part. This quick, exact positioning also benefits you if you are working on a single workpiece that requires you removing it on occasion to take measurements or machine the workpiece elsewhere. A work stop ensures the workpiece will be returned to the same position regardless of how many times you remove it from your lathe to make adjustments. In addition, a work stop prevents the workpiece from sliding into a chuck or collet.
Which work stop, when?
A variety of work stops exist, each for a specific purpose, designed for use with specific components of your lathe.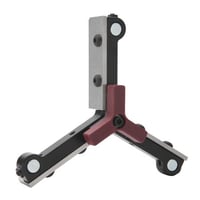 Chuck Stops are designed to locate shorter parts beyond the chuck jaws to provide clearance for facing operations. A centering plug is used to keep the unit centered to the ID of the chuck. Strong neodymium magnets secure chuck stops to the face of the chuck. Edge Technology's Chuck Stop Set includes (10) sets of parallel bars of differing heights to achieve the required spacing, (1) chuck spider with neodymium magnets and (6) different sized centering plugs, all of which provide a versatile range of usage and compatibility with a variety of 6" or larger 3 jaw chucks. OTMT chuck stops and chuck stop sets are also available as a comparable and more moderately priced option.

A 5C Collet Stop is a must for multiple piece runs of small lathe parts. A 5C Collet Stop is designed to provide a consistent locating surface to ensure each part is indexed to the same depth. The location of the stop rod is easily adjustable, and it fits any size 5C collet. Our most economical option is the TTC 5C Collet Stop, while Edge Technology's 5C Collet Stop Set is also a popular option that includes (6) hardened steel stop rods (1/16", 1/8", 3/16", 1/4", 3/8", 3/4") to fit any size collet.
---
WAnt to learn more about aluminum machining?
We believe the right tool is everything! Download our Aluminum Machining Guide and ensure you have the information you need to select the right tool for your aluminum machining applications, every time!
By downloading the Aluminum Machining Guide you'll also find information on: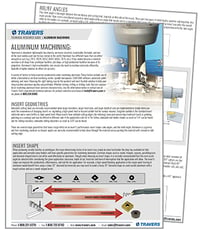 Insert substrates, coatings & post treatment


Insert shape and geometries

Troubleshooting insert failure

Pros & cons of solid carbide vs. indexable tooling

Milling approach angles