In any machine shop, fabrication shop, or construction site, you run the risk of damaging your eyes with projectiles, and contaminants. Properly using safety glasses, one of the most popular and commonly used eye protection devices, is essential to ensuring their performance and ability to protect your sight. Watch Kurt Repsher demonstrate the correct way to use eye protection in our latest safety & PPE video.

Wearing Safety Glasses CorRectly
Just how are safety glasses supposed to fit? Most safety glasses are made to adjust or bend to a degree in order to ensure proper fit for each user. Proper fit of your safety glasses should ensure the following: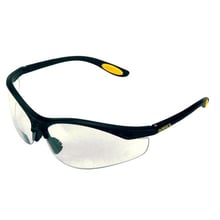 Comfort: There should be no uncomfortable pinching or pressure points behind your ears or on the side of your head. The nose piece should also be comfortable and contact the bridge of your nose without pinching or consistent pressure. The overall weight of your safety glasses should be evenly distributed between your ears and your nose so that frames sit comfortably and evenly on your face.
Visibility: You should be able to see in all directions, including your peripheral vision, without any major obstruction. To prevent the lenses of your glasses from becoming scratched, do not store your glasses with the lenses facing down or contacting a hard surface. Clean your safety glasses with pre-moistened soft tissue wipes that will not scratch your lenses or cause streaking that can obscure your vision. If you wear prescription glasses, choose wrap around style safety glasses that have an extended space that allows use of your prescription glasses beneath them.
Spacing: Frames should fit close to the face without hitting your eyelashes. The space around the frames and your face should be less than the width of a pencil. Gaps of less than or equal to 6-8mm offer the best overall protection from projectiles. The lenses of your safety glasses should cover your eyebrows and any soft tissue around them.
Movement: Eyewear should stay in place when you move your head front to back and side to side. They should not slide from your head when you bend.
---
Secure the ppe that allows you to move forward, safely
We carry a wide variety of safety products, personal protection equipment and COVID response items that help ensure the safety and health of your team:
Eye Protection
Disposable Gloves
Face Masks
Face Shields
Disinfecting Cleansers & Wipes
Hearing Protection
High Visibility & Protective Clothing
Hand Sanitizer