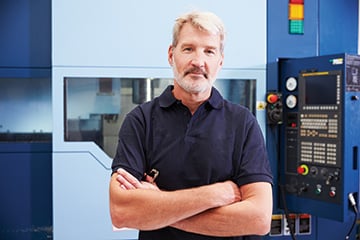 Like all businesses, most every Job and Machine Shop will encounter periodic challenges for growth. According to the US Bureau of Labor Statistics, approximately 20% of new businesses fail during the first two years of being open, 45% during the first five years, and 65% during the first 10 years. The 35% of businesses that succeed have retained customers and steadily attracted new customers, creating a reliable revenue stream that allows them to survive the ebbs and flows of the economy and the industries they serve. Here at Travers Tool, we have been fortunate enough to grow with a number of customers that we have served over generations, and we have seen firsthand some of the best tactics taken by these job and machine shops to ensure steady, reliable growth and profit. Their unifying 'secret'? They market themselves well.
Marketing your shop ensures those who require your services can find you, research your capabilities, learn more about you, and contact you. Understandably, retaining existing customers rightfully requires your steady focus on getting their jobs out the door to spec and by deadline, and while busy, chasing your next job or customer may not be high on your priority list. But the moment that job is completed or your machines are sitting idle, not having that next customer or next job lined up can be what keeps you up at night. Your marketing is a tool that works for you 24/7, building your brand, getting your name out and connecting you with that next customer. Follow the five steps below to jumpstart your marketing and generate the reliable growth those 'next customers' can help you ensure.
1:
Know Your Value:
Identify the 2 or 3 "pain points" you help solve for your existing customers and highlight the main reasons they choose to work with you. Share this information when communicating or speaking with any prospect or customer, whether verbally or within your printed or digital marketing materials. Being able to articulate the services you provide is key – remember it's not just about getting jobs done by deadline, it's about doing so meticulously, with professionalism, with transparent communication, etc. Knowing and speaking to your value is integral to having new customers recognize it, identify with it, and trust in it. Incorporating testimonials from existing customers that reinforce your claims add to their legitimacy and equate to powerful word-of-mouth recommendations as well. Find great suggestions on how to incorporate customer testimonials into your marketing here.
2: Build Your Brand:
Develop your brand "story" and logo. Your brand story helps tell customers who you are, what your mission is, and can illustrate your origins and experience. This ensures a better fit, and can aid in brand and customer loyalty, as this helps your customer learn more about you and connect with you and your shop on a more personal level. Having a logo grabs attention and provides a consistent representation of your brand that lends your shop to being viewed as established, professional, and detail-oriented. Include your logo on your marketing, your uniforms, and your signage for consistent presentation. Graphic designers, marketing agencies and online logo creators are available, learn more here.
3: Build Or Update Your Website:
Finding new customers can be challenging – don't make it near impossible for them to find you! Your website should serve as your marketing headquarters, and is likely your greatest source of potential new customers. Be sure to list all of your equipment and capabilities, information about yourself and your key staff, contact information including phone, email, and an online form (like an RFQ) to garnish leads, and lots of photos and videos that illustrate the quality and range of your work. Ensure your site is easily searchable by Google by including keywords that describe your business in the copy, so that people searching for the type of services you offer can identify you. Most digital designers and content strategists can assist with this, and can be found via a search of local freelancers or marketing agencies in your neck of the woods. You can also build your own site online with a templated site builder service, a budget-friendly option that typically offers a wide range of annual plans and design support. Here's a good blog article about this topic from our friends at NYCCNC.
4: Stand Out With Gifts & Fun:
Whether via an inexpensive but creative small gift that ties into your branding or marketing campaign (ie: a rubics cube that ties into a 'problem-solver' campaign) or something more substantial like a custom-machined paperweight of a client's logo, having a memorable leave behind can demonstrate your creativity, innovative thinking and commitment to your customer. When your marketing focuses on the customer experience and their surprise and delight, you paint your shop in the best light and encourage their business and loyalty. In general, people love swag and free stuff, so even if you don't get the job, promotional leave behinds with your logo and contact information do increase brand awareness and get your name out there! You can usually find local promotional item suppliers, or can use online retailers like 4imprint or Queensboro.
5: Identify, Target & Contact New Potential Customers:
What do your shop's capabilities lend themselves to? What customers have you been the best fit with and how can you continue to leverage these capabilities and your previous experience with new customers? Once you've identified and established your niche, do web research to find potential targets. Find key decision makers and contact information of those who fit these criteria (often available on a potential the customer's website, through industry groups, or even social sites like LinkedIn). Reach out to top prospects by phone, mail, or LinkedIn email, and introduce yourself and your shop. Send them notes, provide helpful business information, or fun promotional items that make it more likely they'll keep you top of mind and take your next sales call. Outside of your website, be sure to create social sites that support your branding and marketing efforts, most importantly, a LinkedIn account that will allow you another means to contact key decision-makers and be found by potential customers.
I appreciate that shifting gears from manufacturer to marketer may not be an easy one, but taking any of the above steps can help move your business in the right direction and generate reliable revenue growth. Any of the above can certainly be expanded upon, and all of these steps can help you build a firm marketing foundation for your shop. Feel free to email me at brucez@travers.com with any questions or ideas, and check out these additional resources that may prove useful as you:
SBA Marketing & Sales: https://www.sba.gov/business-guide/manage-your-business/marketing-sales
Hubspot Small Business Marketing Ideas & Free Marketing Plan Download: https://blog.hubspot.com/marketing/small-business-marketing-guide