When should you use an impact driver vs. a drill? Watch this video and learn the differences between an impact driver and a power drill, plus what applications each is best suited for. Resident tech expert Kurt Repsher walks you through the differences and the pros and cons of impact drivers and power drills, so you can choose the right tool for the task at hand. Subscribe to our channel to see more exclusive how to videos and tips from the pros.
What Is A Power Drill?
A power drill is an indispensable tool that is used in a wide variety of construction, home improvement and facility maintenance tasks. A power drill is adjustable-speed tool designed to drill and drive in fasteners. Drills are equipped with a chuck to hold the drivers, tools & bits. Round or hex tools & bits can be used.
What Is AN impact Driver?
An impact driver is designed to drive in long screws or large fasteners. Impact drivers are made with quick release shanks that accept all one-quarter-inch hex driver bits, allowing for quick change of tools. Impact drivers use rotational force to drive in the screw or fastener, and are designed to deliver quick bursts of rotational power (up to 50 'impacts' per second) when resistance is sensed. The compact design of impact drivers allows for lighter weight and greater accessibility in tight spaces.
What are the differences between a drill & AN impact Driver?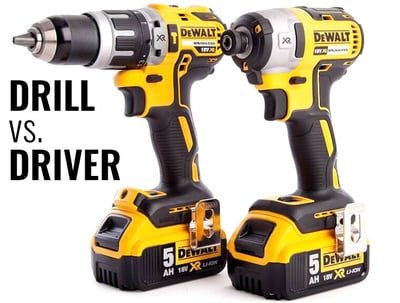 While both a power drill and an impact driver are designed to drill and drive in fasteners, there are a number of differences that make each tool better suited for specific applications.
| | |
| --- | --- |
| DRILL | IMPACT DRIVER |
| Holds drivers and bits within a keyed or keyless chuck | Not equipped with a chuck. Holds drivers and bits within a quick change hex collet (usually 1/4") |
| Holds drivers and bits with a hex, or round shank | Holds drivers and bits with a hexagonal shank |
| Larger & heavier | More compact & lightweight |
| Less torque: equipped with an adjustable clutch for various torque levels | More torque: impact-rated hex-shank bits are required for optimal use |
| Equipped with high and low speeds, and sometimes even three speeds, that user can adjust as needed | Have quick, automatic rotary bursts of power, activated when resistance is detected |
| The driving force is reciprocal | The driving force is rotational |
| Most drill motors use brushes and offer a a higher maximum RPM | Use brushless motors that are more compact and lightweight, allowing extended battery life in cordless models |
should I USE A drill OR AN impact Driver?
When choosing when to use a power drill vs an impact driver the type of fastener you're drilling and the details of your application should be considered. Use the table below to select when to use a drill vs. an impact driver.
| | | |
| --- | --- | --- |
| Application | Use A Drill | Use An Impact Driver |
| Drilling precise holes into a surface | X | |
| Drilling holes into a surface where size or placement of the hole is not crucial | X | X |
| Drilling or driving small fasteners or short screws | X | X |
| Drilling or driving large fasteners or long screws & lag bolts | | X |
| Heavy duty application where more torsional force is required | | X |
| Extended, fatiguing usage required | | X |
| Driving fasteners into drywall, thin wood, or soft materials | X | X |
| Driving fasteners into metal, thick wood, or harder materials | | X |
| Drilling holes into drywall, thin wood, or soft materials | X | |
| Drilling holes into metal, thick wood, or harder materials | X | |
What about hammer drills Or 'Hammer Drill Mode'?
Like standard power drills, hammer drills are equipped with a chuck. In addition, hammer drills rotate a drill bit while hitting it forward in a fashion similar to how a hammer would deliver force (hence, the name 'hammer drill'). A hammer drill, or the hammer drill mode some power drills are equipped with, should be utilized when drilling holes in stone, concrete or masonry. DO NOT use a hammer drill or hammer drill mode to drill holes or drive fasteners into drywall, thin wood, or soft materials, as the hammering action can lead to damaging the surface of these more delicate materials. If your hammer drill has a 'drill only' mode, that mode should be engaged when you are driving fasteners or performing applications outside of drilling holes into masonry, concrete, or stone.
BRUSHED VS. Brushless motors
While a vast amount of power drills are equipped with brushed motors, those that are considered professional grade are equipped with brushless motors. A power drill equipped with a brushed motor will still deliver years of performance – on average lasting 1,000-3,000 hours – ideal for DIY and hobbyist applications. However, a brushless motor on average will deliver over 10,000 hours of performance, as there are no brushes to wear down with each use. In addition to extended tool life, there are several other benefits to brushless motors:
higher motor efficiency:

the reduced heat, sound, and vibration generated with a brushless motor allows more power to the rotors and generates less friction between the rotor and stator

safer operation:

reduced friction reduces risk overheating and sparking

lighter weight:

less components equate to a lighter weight motor, and often a lighter weight tool
less frequent charging required: batteries have a longer life span, and they'll last longer between charges
greater return on investment: while tools equipped with brushless motors cost more than those with brushed motors, the extended tool life and better overall performance pays for itself over time
CHOOSE THE RIGHT Drill BIT FOR YOUR APPLICATION:
High Speed Steel Drill Bits:

these common and economical drill bits are ideal for hobbyists and general purpose applications, also suitable for short production runs.
Cobalt Drill Bits

: little harder than high speed steel, cobalt drill bits will last longer and are suitable for short to medium length production runs.
Solid Carbide Drill Bits:

solid carbide tools offer the hardness and durability that makes them ideal for long production runs. Solid carbide drill bits should be handled with care, as their hardness leaves them brittle and susceptible to breakage if they are not handled appropriately.
Refer to our in-depth review of drill coating characteristics and drill coating selection charts to ascertain

if a

TiN Coated Drill

,

TiCN Coated Drill

or

TiAlN Coated Drill

is best suited for your application and material. Or, see our vast selection of drills

here. For assistance with selecting the right drill bit for your application, contact our tech team at tech@travers.com or call 800.234.9985 and choose option 4.

---
Want to learn more?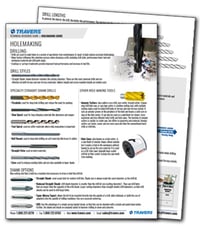 Download our Holemaking Guide and learn about:
Drill style, length and shank options and when to use them
Choosing the right drill for your material with our drill selection chart

Drill performance levels

The benefits of coolant-fed drills

Reamer types & when to use them

Speed & feed recommendations for reamers

Troubleshooting counterboring applications, and more!