The manufacturing industry is suffering from a growing skills gap, with analysts anticipating over two million jobs will go unfilled over the next decade due to inadequately trained labor. We've reviewed the top skills required by employers, and compared them with the top skills listed by prospective manufacturing employees to better illustrate the skills machine shop owners are most likely to need to invest further training in, and the skills machinists should attain to increase their competitiveness and value. Whether a shop owner or a machinist, these are the skills that are most sought after and give you the competitive edge you're looking for!
Top Skills Reported

*

:

Refer to the chart below to see how the skills manufacturing facilities are hiring for compare to the skills prospective manufacturing employees are listing on their resumé.

*as listed on ZipRecruiter 4/2021
| | |
| --- | --- |
| Top skills required by employers/share | Top skills listed by employees/share: |
| Blueprint reading: 15.34% | Milling: 15.70% |
| Milling: 14.62% | Numerical control: 15.34% |
| Numerical control: 14.25% | Lathe machining: 15.13% |
| Lathe machining/operation: 10.5% | Blueprint reading: 11.67% |
| CNC Machining: 9.59% | Grinding: 10.25% |
| Grinding: 8.92% | Assembly line: 7.09% |
| Machine shop experience: 7.05% | CNC Machining: 6.5% |
| Micrometer: 6.86% | Forklift Experience: 6.28% |
| Caliper: 6.7% | Caliper: 6.03% |
| Lathe machining: 6.16% | Welding: 6.01% |
impactful experience & training:
Industry-specific certifications & credentials:

Employers maintain a competitive workforce, and employees give themselves a competitive edge, with industry certifications in specialized processes including 5S and lean methodology, six sigma, ISO regulations and more. A variety of certification courses are available online now via Tooling U SME.


coding & Digital Fluency:
Increasingly, manufacturers are incorporating PLC (Programmable Logic Controllers) and MES (Manufacturing Execution Systems) to track their production processes and improve production output. Utilizing this technology helps machine shop owners reduce downtime and maximize their efficiency. Workers that are familiar with this software and digitally fluent enough to program PLC, MES, and manufacturing-specific programs including CAD/CAM software and CNC programs are a tremendous asset.


AUTOMATION & ROBOTICS:
While incorporating robotics and automation on your shop floor can offer tremendous efficiencies, it also add additional costs in terms of maintenance and repair of robotic components. Having workers in-house that are familiar with robotics and able to repair and maintain robotics can help reduce downtime, save on repair costs and help ensure optimal performance of your robotic components.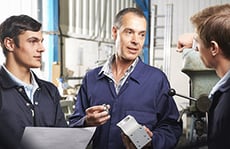 Real world experience:
Regardless of digital skills and fluency, nothing can replace the value of hands-on experience and familiarity with specific machines and applications. Most machine shops and manufacturing facilities are actively (and eagerly!) seeking new talent, and the competition is fierce. As I noted in my recent blog 'How To Hire (And Keep!) Your Next CNC Machinist', machine shop owners are more and more often taking steps to build partnerships with local vo-tech centers and recruiting talent directly from schools. Students are gaining valuable real-world, hands-on training via participation in internships and work study programs, and adding this experience to their resumé is advantageous. The burden of closing the skills gap ultimately falls upon both the manufacturing industry and those that are pursuing a career in manufacturing. Both employers and prospective employees must pursue training and skill set development that helps them maintain a competitive edge and ensure their future success.
---
Want to network with your local schools?
We can help! Our Education Program serves hundreds of schools across the country! We can put you in touch with local colleges and educational institutions that could be training your next machinist, right now!