The following trends will have immediate and long term impact on the manufacturing industry and your business. Understanding how these trends will potentially influence your shop – not only in terms of the type of business you get, but also with how you operate and outfit your facility – allows you to be prepared and poised to meet the needs of your customers and the industries you serve. To remain competitive, it is important that you not only recognize these trends, but position your business to benefit from them. Post the onset of the COVID-19 Pandemic in 2020, the arrival of a number of trends and initiatives has seemingly been accelerated, as the manufacturing industry strives to simultaneously recover and become disruption-proof.
#3: Employee Safety Is Paramount: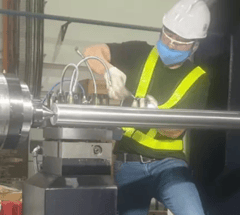 Ensuring safety in the workplace has always been a high priority in machine shops and manufacturing facilities, but in light of the pandemic, it is more critical than ever. Manufacturers must not only follow CDC guidelines and OSHA standards, but also potentially reconfigure their workstations, and in some cases their workflows and the production floor itself, to accommodate social distancing and minimize contact between employees when possible. Minimizing interactions between employees and shared equipment has become a necessity not only to heighten safety, but also to provide traceability in case of potential exposure. Keeping your workforce healthy and ensuring they are fit for work will continue to be a challenge throughout 2021, even as vaccines roll out and provide added protection.
#2: Continued Local Sourcing & Reshoring: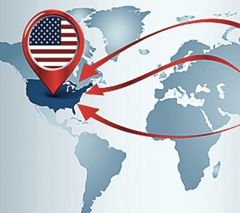 The COVID-19 Pandemic shed a tremendous light on America's continued reliance and dependence on offshore manufacturing. Just as the public will not soon forget the inability to source PPE and necessities at the onset of the pandemic, sourcing issues that so widely impacted the manufacturing industry remain fresh in our minds. Many manufacturers have opted to diversify their sourcing of raw materials to include local or domestic suppliers. Similarly, machine shops and manufacturing facilities are opting to use tools manufactured in the USA like Rushmore USA Tools, Starrett, and Viking Drill for example, to ensure minimal disruption in their ability to secure the tools they need to complete a job. You can anticipate seeing a flux of components for automobiles and electronic parts being manufactured domestically, at least in the short term, to avoid shipping and supply chain challenges as the global pandemic continues.
#1: The More Digital, The Better: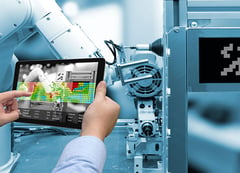 Like years prior, digital technology, including incorporating the Internet Of Things (IoT), digital collaboration tools, and digital predictive maintenance, remains the top manufacturing trend. The shift in many workplaces to fully remote or reduced in-person staff in response to COVID-19 illustrated the agility, oversight and planning capabilities digital technology affords a manufacturing facility. While technology cannot make your facility disruption-proof, it can certainly reduce the disruptions experienced. Taking advantage of smart tools and IoT technology allows remote monitoring, predictive maintenance capabilities, and perhaps more importantly than ever, reporting on employee and equipment performance with real-time data. With over 30% of manufacturing production now incorporating smart devices and embedded intelligence according to an MPI Group study, facilities without it are at a disadvantage. Use of digital technology allows manufacturers to reduce downtime, optimize efficiency, and maintain productivity. Furthermore, in an age of limited contact and restricted visitor access within many manufacturing facilities, a digital means of marketing your shop, and having online meetings with potential and existing customers, remains key to maintaining and developing customer relationships as well as your ability to source new business.
---
See Travers Tool's exclusive lean manufacturing kits
Travers Tool has partnered with the biggest names in the industry – including Bondhus, Irwin, Mitutoyo, Pica, Proto, Rushmore and Wera – to create exclusive lean kits that easily fit into most tool carts and mobile workstations. See how this growing line makes it easy to implement lean principles and increase efficiency in your shop!