Your job shop requires that you manage multiple projects simultaneously, each of them demanding varying production requirements, lead times, and due dates. Finding efficiencies is critical to meeting deadlines, enhancing profitability, and maintaining a competitive edge. Efficient processes, equipment, and personnel are essential to keeping production on track and on time. Reviewing and maximizing these efficiencies can lead to higher productivity and increase your bottom line. Let's review five steps you can take to ensure your shop is operating at peak performance.
1: Take a good hard look at your shop: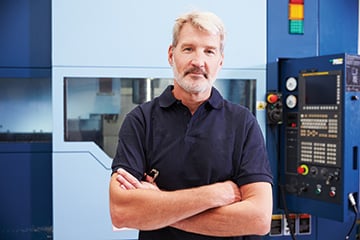 To best gage your shop's strengths and weaknesses (and areas for improvement), review existing processes that you have in place. Reviewing your current workflow will help you identify current pain points and bottlenecks. Are you out of or dangerously low on inventory before anyone realizes it? Is your equipment performing reliably? Are you adequately staffed? Does your staff have the skills each job requires? Walk through repeat jobs from beginning to end – where are you losing time? How much time does set -up for each job require? How much inventory must you have on hand for the job? This review will provide a baseline for you to improve upon, and a means to evaluate your existing output levels and workflows, allowing you to measure any improvements you implement.
2: Get Your Shop Organized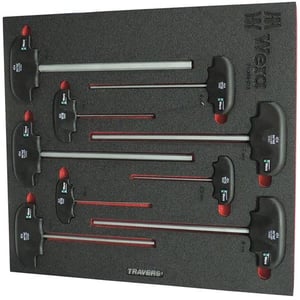 Utilize the results of your review and get feedback from your team in order to better organize your shop. This can mean reallocating space, moving equipment, and often, following lean principles in an effort to streamline your shop's production. Even a small shop can benefit from 'going lean', particularly in terms of making the most of your existing space and making sure everything has its place. Making use of lean kits and shadow boards can help speed up set-up between jobs, reduce time lost looking for tools, and help you maintain the organized shop you create. Utilizing lean kits with tool carts or mobile workstations stocked with tools you need in place for specific reoccurring jobs allows you to literally switch out the unique tools and workstations needed in a matter of minutes. A great book on how to self-implement lean principles in your shop is 2 Second Lean, by Paul Akers. You can watch a virtual tour of Paul's FastCap Manufacturing Facility, here, to see how he's put lean principles in action throughout his award-winning shop.
3: Get A Handle On Your Inventory
On-hand inventory is a necessary evil – you need to have the inventory a job requires available in order to start a job, but run into inventory risks by doing so. How far in advance are you purchasing inventory for a job, and are you willing to risk holding the bag for that inventory if there's a change order or cancellation? How much space is excess inventory taking up in your shop? A go-to industrial supplier like Travers Tool will often stock or source the tools you require and remove the need for you to inventory them. Request a quote or contact your Travers Tool sales rep and work with them to review your tooling needs, or to place a re-occuring order.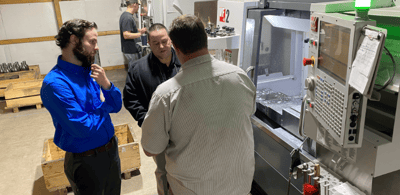 4: Evaluate Your Tools & Equipment
If your machinery or equipment is frequently requiring repair or is outdated and impacting your production capabilities, it's time to question its value to your organization. Review your shop's maintenance schedules and identify any problematic equipment – are reoccurring issues indicative your equipment requires more frequent maintenance, or symptomatic of something more severe? Do your workflows indicate the addition of another machine, QA area, or workstation, would benefit your shop's turnaround and overall efficiency? Make use of Travers Tool's machinery selection assistance or technical support to decipher what your maintenance schedules are telling you. Apply for credit with Travers Tool to soften the blow of any big ticket purchase, and capitalize on your investment with a section 179 deduction. Also be sure to consider, are there less expensive tooling options you can utilize without jeopardizing performance? In an increasingly competitive landscape, industrial suppliers are partnering with manufacturers to develop exclusive brands and distribution rights to gain an edge on the competition. Gone are the days of 'one size fits all' value based tools, replaced more recently with high performance brands designed for professionals, including American-made brand Rushmore USA Tools, which offers a wide variety of countersinks, drills, end mills, taps and solid carbide solutions. Exploring new tooling options comparable to your current inventory may reveal potential cost savings that directly impact your bottom line.
5: Evaluate Your Team
Ask yourself… are you confident the team you have on the shop floor is working as efficiently as possible? Does your staff have the skill level each job demands? Frankly, a machine or tool can only be as efficient as its operator. Ensure your staff has the training they need to keep your shop on the cutting edge. Create an in-house training program, or utilize online training courses to ensure your team, and your shop, are working as efficiently as possible.
---
See Travers Tool's exclusive lean manufacturing kits
Travers Tool has partnered with the biggest names in the industry – including Bondhus, Irwin, Mitutoyo, Pica, Proto, Rushmore and Wera – to create exclusive lean kits that easily fit into most tool carts and mobile workstations. See how this growing line makes it easy to implement lean principles in your shop!