Watch this video and we'll walk you through how and when to use some of the most popular Noga deburring blades. Subscribe to our YouTube Channel to be among the first to see more awesome videos like this one!
Designed for professionals
Ideal for machinists, fabricators and any meticulous craftsman, Noga deburring tools are designed for ease of use. These deburring tools remove burrs (small imperfections and rough or uneven edges from machined metal and other materials), increasing the functionality and reliability of machined parts by providing a smooth, professional finish. In this video, we'll demonstrate our best-selling Noga deburring tools.
Noga S30 BladeS

Noga S30 Deburring Blades are composed of high speed steel and ideal for heavy duty use on materials including tubing and sheet metal.

Noga S60 BladeS

Noga S60 Deburring Blades are composed of high speed steel and ideal for heavy duty internal deburring. Their extended length allows the blade to deburr the internal edges of holes and hard to reach crevices.

Noga S10 BladeS

Noga S10 Deburring Blades are composed of high speed steel and ideal for deburring steel and aluminum.

Noga rotodrive

Noga Rotodrive Set & Accessories allow continuous rotation of countersink, enabling very fast chamfering. Ideal for deburring holes, the 40mm offset allows for heavy duty burr removal.

Noga 'S' Blade Holder

Noga S Deburring Blade holder is composed of steel and telescopes from 30-115mm. The holder grasps 'S' blades securely and allows for you to apply the pressure necessary to achieve the edge you desire without risk of the blade loosening or detaching while in use.

Noga-Grip Eronomic Handle

Noga NG1000 NG-1 Noga-Grip Ergonomic Deburring Handle for S (E) Blades is designed for maximum comfort. Spare blades can conveniently be kept inside back cap, so the blade you need is always readily available.
Want to learn more?
We believe the Right Tool Is Everything™, and we strive to share our experience and expertise in an effort to ensure you select the right tool for your application, follow best practices, and can push your productivity and efficiency further. Download the Noga Deburring Guide and be sure you're choosing the right Noga deburring tool for the job, every time!
By downloading the guide you'll find: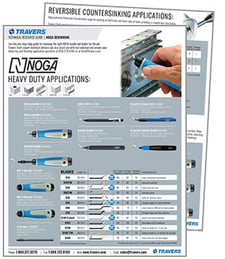 Noga heavy duty handle & blade selection charts

Noga light duty handle & blade selection charts

Noga RotoDrive & heavy duty countersink handle & blade selection charts

Noga Reversible countersink handle & blade selection charts

Noga scraper application comparison table