Knowing how to choose the right file for your application can sometimes be a challenge. Our File Fundamentals & Hand Files Selection Guide reviews file basics, and walks you through how to determine the right file shape, file length, file pattern and file cut that are the best choice for your roughing or finishing application. Complete with profile selector and material/application hand file selection charts, this comprehensive hand file selection guide helps you choose the right file for the job, every time.
---
ENSURE YOU'RE USING THE right file, EVERY TIME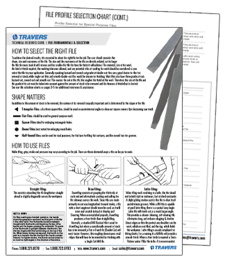 Our File Fundamentals & Selection Guide helps you choose the file that best suits your application, and helps you achieve the required finish.
Download your File Fundamentals & Selection Guide and find:
File Profile Selection Charts

File Selection Charts Based On Application

File Selection Charts Based On Material

File Fundamentals and Basics of Files

Helpful filing tips from pros and manufacturers