When drilling in metal, what advise would the pros give? Check out the top tips for drilling metal in our latest video, and subscribe to our channel to see more exclusive tips and exclusive how to videos. For assistance with selecting the right tool for your application, contact our tech team at tech@travers.com or call 800.234.9985 and choose option 4.
Tips that help you drill better:
Safety, first:
Wear protective safety glasses: regardless of what material you are drilling into, make this your preliminary step! Even the tiniest of fragments can damage your eyes and permanently impair your vision.
Remove jewelry: rings and watches can get caught on anything that's spinning and draw your hand into the spindle. Be sure to store your jewelry safely, away from the machinery to be sure it does not fall into the machine or become damaged by chips or coolant spray.
Wear a short sleeve shirt or roll up your sleeves: remove the risk of clothing getting wrapped around the spindle and puling you in.
CHOOSE THE RIGHT BIT FOR YOUR APPLICATION:
High Speed Steel Drill Bits:

these common and economical drill bits are ideal for hobbyists and general purpose applications, also suitable for short production runs.
Cobalt Drill Bits

: little harder than high speed steel, cobalt drill bits will last longer and are suitable for short to medium length production runs.
Solid Carbide Drill Bits:

solid carbide tools offer the hardness and durability that makes them ideal for long production runs. Solid carbide drill bits should be handled with care, as their hardness leaves them brittle and susceptible to breakage if they are not handled appropriately.
Choose the right drill coating:
Drill coatings add lubrication and additional hardness, extending tool life and allowing for more holes to be made per drill. Refer to our in-depth review of drill coating characteristics and drill coating selection charts to ascertain if a TiN Coated Drill, TiCN Coated Drill or TiAlN Coated Drill is best suited for your application and material. Or, see our vast selection of drills here.
Use A Lubricant When Drilling metal:
Use a lubricant or cutting paste when drilling metal to increase your efficiency and finish, and increase tool life. Using a lubricant while drilling allows you to:
Reduce friction: minimize heat build up that can damage the drill bit or the surface of the material you are drilling into.
Better chip evacuation: prevent chips from sticking to the drill, allowing faster evacuation of chips from the hole.
Increase tool life: lubricant acts to reduce required cutting forces and put less strain on the drill.
Click on these links to shop the best overall lubricant, the best lubricant for aluminum, and the least messy lubricant, as recommended by our tech team.




PRO TIP:
To easily remove the burrs from the surface of a hole, use a countersink to create a smooth edge. Watch our How To Countersink A Hole In Metal video to learn more.
---
Want to learn more?
We believe the Right Tool Is Everything™, and we strive to share our experience and expertise in an effort to ensure you select the right tool for your application, follow best practices, and can push your productivity further.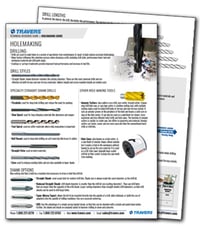 Download our Holemaking Guide by clicking below. By downloading, you'll learn about:
Drill style, length and shank options and when to use them
Choosing the right drill for your material with our drill selection chart

Drill performance levels

The benefits of coolant-fed drills

Reamer types & when to use them

Speed & feed recommendations for reamers

Troubleshooting counterboring applications, and more!