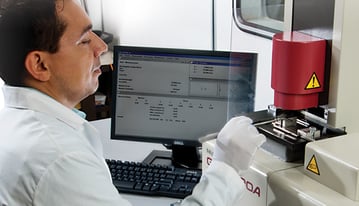 Calibration is the process that ensures that the measurements obtained by a measuring tool are within allowable specifications and tolerances. These calipers are calibrated by measuring a reference standard, like a gage block. Traceability, an essential part of the calibration process, allows the reference standard used to calibrate a precision measuring tool to be traced directly back to the international definition of length. This assures that all measurements are calibrated using the same international standard. Calibrated calipers are exactly the same as their non-calibrated counterparts, but they include a traceable certificate of calibration.
how often do calipers have to be calibrated & why?
The most important purpose of the calibration of a caliper is to verify conformance with stated accuracy specifications in accordance with the ASME B89.1.14 standard. Calipers should be calibrated annually; however, as new products stored in our warehouse, the first 'annual' calibration is not required until one year after purchase—not a year after its original calibration date. If your business requires calibration records, simply attach the invoice showing date of purchase to your certificate of calibration, which will indicate the 'clock starts ticking' on calibration from purchase date, not calibration date.
How can I calibrate my calipers?

Look for the adjacent icon throughout our master catalog to locate calibrated calipers that come complete with a calibration certificate. We can also calibrate your existing measuring tools via our convenient calibration service. Within a week of arriving at our facility, your tools will be calibrated, a certificate will be created, and your tools will be sent back to you. Simply contact our sales department at 800.221.0270 or make a calibration request here.
---
WANT TO LEARN MORE?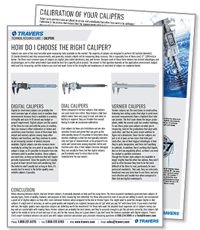 Download our valuable guide on the proper selection and usage of digital, dial, and Vernier calipers. Learn the advantages and disadvantages of each, and which one best meets your needs and suits your application. Find information on:
The fundamentals of calipers
The features and appropriate use of digital, dial and Vernier calipers
The benefits of caliper calibration
Ingress Protection (IP) Ratings explained