Check out this video and see Travers Tool Tech Team Expert, Kurt Repsher, introduce Fowler's Flip Plus Electronic Caliper and demonstrate its unique and highly versatile flip screen feature that makes the caliper a true left handed caliper with just a quick flip of the screen! Offering both innovative design features and the precision accuracy the name Fowler is synonymous with, this cutting edge digital caliper is a must-see and a must-have for your shop.
While you're at it, don't forget to subscribe to our YouTube Channel by clicking the button below!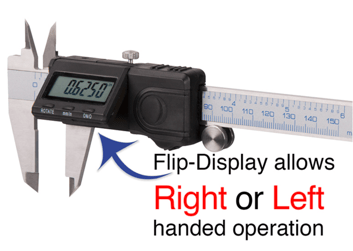 Fowler's Flip Plus Electronic Calipers feature a 180° rotation flip display that allows for true left-handed operation, as well as top viewing, when the caliper must be used at an otherwise difficult or obstructed angle. This unique feature, paired with the caliper's 4-way measuring (outside diameter, inside diameter, depth and step) capability, equates to maximum versatility! Ideal for a variety of users and applications, this cutting edge caliper is a must for any job shop.
The caliper also comes complete with a durable 0.140"(3.5mm) thick stainless steel frame, thumb roll for smooth one-handed measuring, and provides direct inch/metric conversion. With floating zero, and precision resolution of 0.0005" (0.01mm), you can be sure your parts always meet specification. The most popular 0~6" range caliper (Travers Tool order #57-016-141) is provided in a protective fitted case as well.
---
Want To Learn More about caliper measuring tools?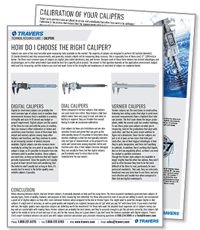 Download our valuable guide on the proper selection and usage of digital, dial, and Vernier calipers. Learn the advantages and disadvantages of each, and which caliper best meets your needs and suits your application. Find information on:
The fundamentals of calipers
The features and appropriate use of digital, dial and Vernier calipers
The benefits of calibrated calipers
Ingress Protection (IP) Ratings explained