Check out below for more information on the Pro-X Mill. While you're at it, don't forget to subscribe to our YouTube Channel by clicking the button below!
High speed milling in non-ferrous is a non-problem!
Korloy's specially designed Pro-X Mill Productivity Sets allow you to push your productivity on aluminum and other non-ferrous materials further! These innovative, versatile sets provide improved accuracy throughout high speed milling applications due to the sharp ground cutting edges and strong clamping due to a unique concave design of the bottom of each included insert. The minimum hone reduces tool pressure and built-up edge, as well as gumming of the chips that is a common challenge when machining aluminum. Korloy utilizes one of the hardest substrates on the market for increase tool life, nickel plater cutter bodies for additional lubricity, and polished tool inserts to give you better surface finishes. Each proprietary Korloy Pro-X Mill Productivity Set is available in multiple radii options (from 0.008"-0.197"), and come complete with (1) tool holder, (10) inserts, (1) magnetic tipped Torx® wrench screwdriver, (1) lubricating tube, (1) Korloy ergonomic pen, and an extra screw (just in case one goes missing)!
The Pro-X Mill difference
Korloy's Pro-X Mills and Kits provide unique advantages, including:
Mirrored top face of the insert: prevents built up edges.
Strong clamping: stopper at the bottom prevents inserts from slipping during machining
Optimized chip breaker design: reduces cutting resistance & extends tool life.


Through 2/14/21, save up to 50% on aluminum milling solutions! Shop our Aluminum Machining Sale here.
---
WANT TO LEARN MORE ABOUT ALUMINUM MACHINING?
By downloading the Aluminum Machining Guide you'll also find information on: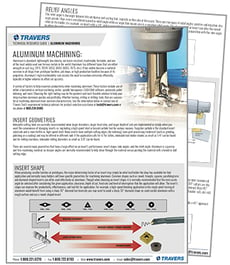 Milling approach angles

Insert substrates, coatings & post treatment

Troubleshooting insert failure

Pros & cons of solid carbide vs. indexable tooling

How to choose the right tool for your aluminum milling application