properly maintain your vise & ensure optimal performance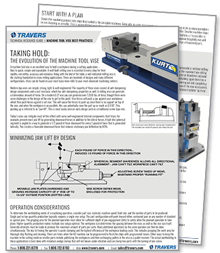 A machine tool vise is an excellent way to hold a workpiece during a cutting application – they're quick, simple and repeatable. A well-built milling vise is essential to every shop for their rigidity, versatility, accuracy and economy. Along with the bed of the table, a well indicated milling vise is the starting foundation to many milling applications. There are hundreds of designs and many different configurations. Vises can be found on your most basic knee mills to your most advanced machining centers.
Download our Vise Best Practices Guide and learn about the evolution of the machine tool vise, how you can best use them for your application, and how to properly maintain your vise.
Fill out the form on this page to download your comprehensive Vise Best Practices Guide! By downloading, you'll learn more about:
Minimizing jaw lift by design
Operation considerations
Simple vs. complex
Recommended vise maintenance
And more!