We've compiled our top 5 lathe accessories based on sales, customer reviews and our tech team's testing and input. Accounting for their ability to improve your lathe's versatility, efficiency and overall muscle – to their innovative cutting edge features and overall value, these lathe accessories land at the top of our list with good reason.
top 5 lathe accessories

This inexpensive live center with interchangeable points allows you to hold a variety of workpieces steadily on your lathe. The (7) interchangeable points provide unparalleled versatility and the ability to handle a variety of turning applications with a single tool. The hardened and ground tool steel body ensures the tool is as durable as it is versatile, and the special taper mount allows you to change the points quickly with ease. Accuracy is guaranteed to .0012" to .0039" at center head, with precision needle bearings used throughout for increased tool life and precision.
Travers Tool Order #69-209-002
This innovative center gage allows you to quickly set up your tool height in reference to your workpiece's center height, ensuring the proper cutting of your workpiece. By monitoring the bubble level on this gage, turning and facing tools can quickly be set on the spindle axis for optimum cutting conditions. Machinists love that you can eliminate the 'nub' that occurs after performing a facing cut with poorly set tools, using this gage to ensure tools are set right, every time. The precision glass vial level (with 30'/2mm sensitivity) is safely housed within the gage's high strength aluminum body, complete with an anodized finish for added durability.
Travers Tool Order #99-008-193

Indexable tools allow for a cost effective means to change the cutting edge, radii, coating, substrates or precision of insert quickly. This set offers a ton of versatility with (1) EVAR04-2, (1) EVAL04-2, (1) EVBR04-2, (1) EVBL04-2, and (1) EVEN04-2 holder included, all which fit ANSI/ISO standard TCMT style inserts, allowing you to perform a variety of turning, facing, boring and chamfering applications. Plus, the set comes complete with (10) TCMT2(1.5)1 APC5T inserts and (1) T-01 Torx® key.
Travers Tool Order #22-150-298

The components of this set are great for light use or machining soft non-ferrous materials including steel, plastic, aluminum, and brass. Complete with two threading tools (60° internal & external), two turning tools (left and right hand) and a cut off tool in a protective case, this versatile set allows for a wide range of applications on an array of materials. Machinists love that these tools can easily be resharpened and permit years of use, making this set an unparalleled value.
Travers Tool Order #22-501-127

A best-selling customer and tech team favorite, this set is a cost-effective alternative to a DRO (it's actually often referred to as a 'poor man's DRO'!). Simply set up a dial indicator with this powerful magnet along your axis to indicate the carriage travel on your lathe. Ideal for the home machinist and a must-have for boring or drilling applications, this set allows you to save time and increase your accuracy. The strong, universal magnet packs up to 45 lbs. of holding power, while the dial indicator is made to exacting American Gage Design (AGD) specifications and is complete with satin chrome finish, interchangeable hardened contact point, .001" graduation, and nearly a 2" dial size for easy reading.
Travers Tool Order #57-080-017

---
WAnt to learn more about aluminum machining?
By downloading the Aluminum Machining Guide you'll also find information on: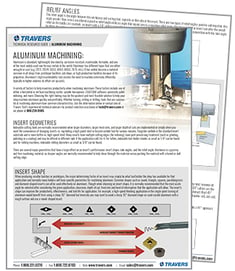 Insert substrates, coatings & post treatment

Troubleshooting insert failure

Pros & cons of solid carbide vs. indexable tooling

How to choose the right tool for your aluminum application


Milling approach angles