Having your collets readily at hand is a huge time saver and allows you to work more efficiently. Check out this Tips & Tricks video for our Tech Team's favorite way to store collets and be sure to subscribe to our channel for more exclusive videos and content!
A better option to store your collets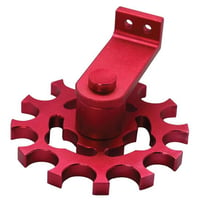 We love the OTMT ER25 15 Hole Rotating Collet Rack for use with R8 Collets (yes, an ER25 rack for use with R8 Collets)! This collet rack ticks all the boxes and though it's not specifically designed for use with R8 Collets, you'd think that it was! With fifteen slots, there's a space to accommodate each R8 collet you'll need, and each collet fits snugly enough to allow the holder to be mounted at an angle, allowing you to view the top surface of each collet and readily identify the size of the tool.The holder can be easily mounted to any flat surface or directly to your machine, rotates a full 360° with just a gentle touch of your finger, and is composed of durable anodized aluminum for extended life and years of use.
---
Have tips & tricks of your own to share?
We want to hear them! Share your own tips and tricks of the trade with us, or tell us what you're interested in seeing more of. Your tips and tricks can be the subject of our next video! Contact us at contentideas@travers.com