Subscribe to our YouTube Channel & check out more awesome videos like this one!
The ultimate in power & VersAtility
Corded or cordless… you decide! Metabo HPT's Multi Volt line allows you the flexibility to decide how you use your tool! When you're on the job site, power is everything – go from corded to cordless in an instant by simply swapping out your Multi Volt tool's AC adapter with a 36V Multi Volt lithium ion battery. Transform your tool in seconds! The added mobility of a cordless tool doesn't have to come at the expense of power either… just watch the video and see for yourself. It's never been easier to tackle any job, anywhere. Plus, the Metabo HPT Multi Volt line includes a wide selection of impact drivers, impact wrenches, circular saws, reciprocating saws – and even miter saws and table saws – all of which can be powered via a cord or Metabo HPT Multi Volt battery! Use these innovative power tools to transform work on your job site and take your mobility and flexibility to the next level. Plus, all Metabo HPT tools feature the quality design and craftsmanship synonymous with the brand that puts durability first!
---
Want to learn MORE
about
MItabo HPT SOLUTIONS?
Travers Tool is a proud full line distributor of Metabo HPT Power Tools. Through 2/28/21, shop featured Metabo HPT solutions at limited time only pricing. Contact us for more information on our Metabo HPT free battery, AC adapter promotions and bare tool BOGO deals, only available while supplies last!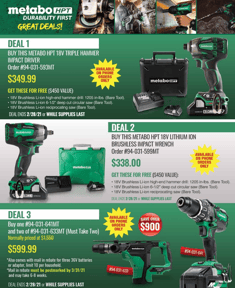 View our current Metabo HPT Power Tools Flyer:
4 Pages of Metabo HPT Power Tools, featuring angle grinders, power drills, impact drivers, circular saws, table saws, and more, at up to 60% off
New Metabo HPT free battery and AC adapter promotions
New Metabo HPT bare tool BOGO deals!