We recently compiled our top 5 end mills for aluminum milling based on sales, customer reviews and our tech team's testing and input. Now, check out our #1 pick for the top end mill for machining aluminum in action! Our resident tech team expert Kurt Repsher demonstrates the end mill's performance while side milling on aluminum. With its reliable repeatability, innovative cutting edge features, and unparalleled value, this ZrN (zirconium nitride) coated 3 flute end mill landed at the top of our list with good reason.

A best-selling customer and tech team favorite, these American-made end mills are designed for aluminum applications and deliver the high performance, high quality and outstanding durability the words 'Made In The USA' are synonymous with. Featuring a 10% premium micrograin carbide, a versatile 37° helix that helps to clear chips from the pocket, and a ZrN (zirconium nitride) coating for increased lubricity and smooth machining, these end mills are ideal for use on aluminum and other non-ferrous materials. Available in a wide range of sizes and equipped with a unique geometry designed to prevent 'gumming' of the aluminum to the carbide (which in turn, reduces chatter and helps to prevent most failures), these end mills provide the power and versatility your aluminum milling applications demand.
Metric sizes of this end mill are also available, here.


---
WAnt to learn more about aluminum machining?
By downloading our Comprehensive Aluminum Machining Guide you'll also find information on: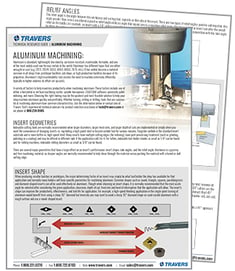 Milling approach angles

Insert substrates, coatings & post treatment

Insert shape & geometries

Troubleshooting insert failure

The pros & cons of solid carbide vs. indexable tooling

How to choose the right tool for your aluminum milling application