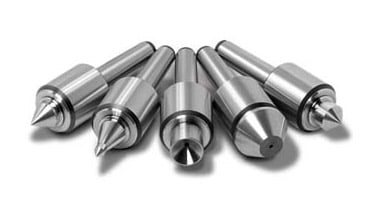 With so many options available, choosing the right live center for your application can sometimes be a challenge. Determining the following five details can make easy work of a sometimes difficult decision.

1. Determine the machine's taper
Most lathes have Morse tapers. This information can often be found in the owner's manual, but many machinists refer to a taper identification chart like those in the Machinery's Handbook to determine taper size. For additional assistance, see contact the Travers Tool tech team for support.
2. Determine the weight of the workpiece
Determine workpiece weight, including anticipated cutting forces. Be wary of manufacturers who only give a value called "Load Rating", and then say the workpiece weight is less than half this rating. (Exactly how much less than half is necessary to be safe?!) The workpiece weight of each live center is often stated beside the part number, and can usually be found on the manufacturer's website or in their catalog. The workpiece weight is the MAXIMUM weight a live center can carry safely, so be sure to adhere to this weight to prevent an accident and avoid downtime.
Determine the thrust load
3. Determine the thrust load necessary to keep the part firmly seated on the center. Typically this value must be 2/3 of the workpiece weight, including cutting forces. Some manufacturers, including Royal, call out the maximum thrust load for each center to allow you to determine this easily.
Determine the point style
4. Determine the point style which best suits your needs. Centers with extended points offer additional tool clearance often needed on CNC lathes, and sometimes beneficial on manual lathes, but there is a workpiece weight trade off. Carbide-tipped points are available for applications where point wear is an issue. Standard point live centers are best when rigidity and weight requirements are an important consideration.
Determine the required operating speed
5. Determine the required operating speed. Many lathes do not reach RPM's over 3,000, and grinding machines rarely reach over 500 RPM's.
---
WAnt to learn about aluminum machining?
By downloading the Aluminum Machining Guide you'll find information on: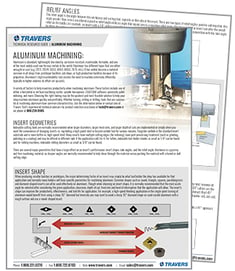 Insert substrates, coatings & post treatment

Troubleshooting insert failure

Pros & cons of solid carbide vs. indexable tooling

How to choose the right tool for your aluminum application


Milling approach angles